Dotech | RGB Version Typewriter Mechanical Keyboard
$115.00
$139.99
Dotech | Typewriter Mechanical Keyboard RGB Version

🌎 Free Shipping Worldwide
You asked, we listened! Due to immense demand... Our Original Typewriter Mechanical keyboard now has fully customizable RGB back-light keys! Take your gaming / typing experience to the next level with dynamic, vibrant multi-color backlighting for virtually unlimited customization.

Inspired by Typewriters, the Dotech Typewriter is a Mechanical Keyboard that is retro and elegant. Equipped with blue switches to make it sound like a typewriter. Spherical round keycaps which fit your fingers perfectly. And Dynamic RGB back-lighting to enhance your gaming experience. This overall excellent piece of hardware is a joy to work & play on for any gamer or even any office worker.

Read more about the RGB Original Typewriter keyboard below!
Features of the RGB Dotech Original Typewriter Mechanical Keyboard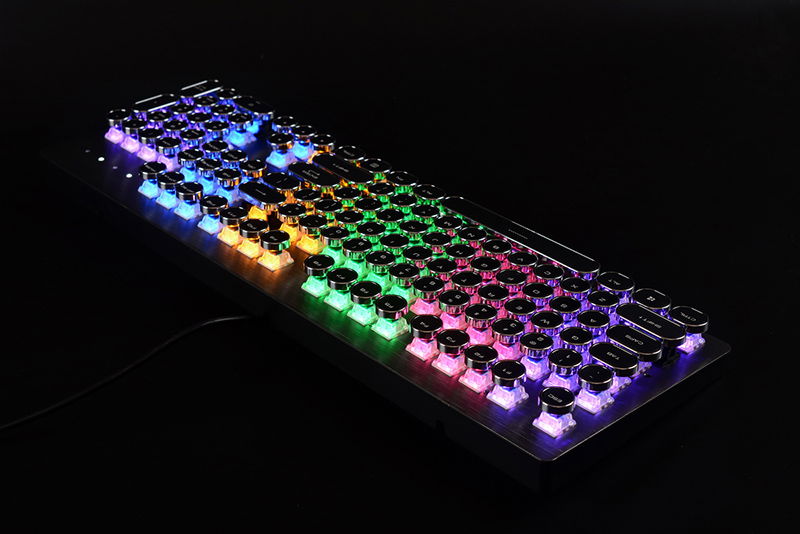 Experience Dynamic RGB Lighting
With 10+ impressive preset lighting effects, you will enjoy Dotech RGB Typewriter Mechanical keyboard's spectacular backlights right upon plugging it in. Control easily and switch easily the backlight effects on the fly with this keyboard's convenient shortcut keys.

In case this wasn't enough, you can customize your own color combos in a way that's unique to you. Unleash your creativity! All keys can turn Blue, Indigo, Purple, Red, Orange, Green, White, and Yellow.

It doesn't stop there: the RGB backlight reflects on the Dotech Typewriters aluminum panel to create a glorious visual effect that will transform your gaming experience/typing experience!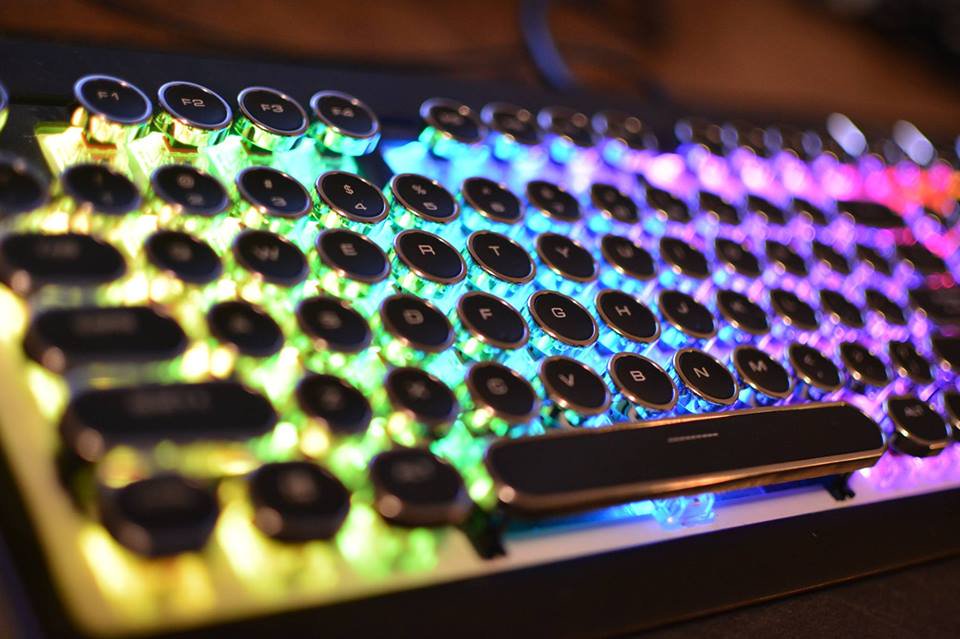 Inspired by Typewriters, the Dotech Gaming Typewriter Mechanical Keyboard combines retro aesthetics with contemporary state-of-the-art functionalities.

Perfectly handcrafted round key caps with clicky mechanical switches combine to bring you reminiscence of old-school typewriters but with the precision of modern mechanical keyboards.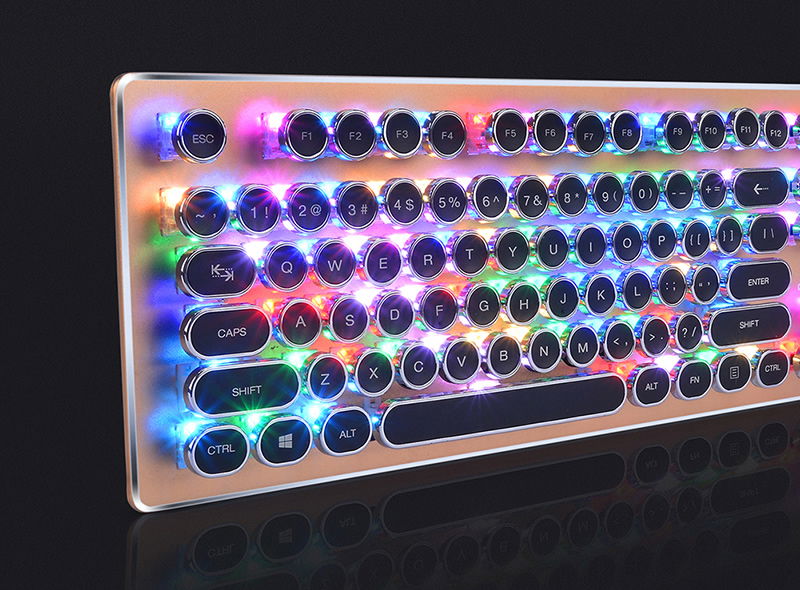 Tactile & Clicky Mechanical keys - Reminiscent of Typewriters
Experience precise travel distance and unique clicky tactile feel with every key stroke. No more ghosting or conflicts simultaneously key presses. Type with confidence and accuracy with every stroke, every time. Trust us, the feeling of typing on this keyboard is unreal & reminiscent of typewriter..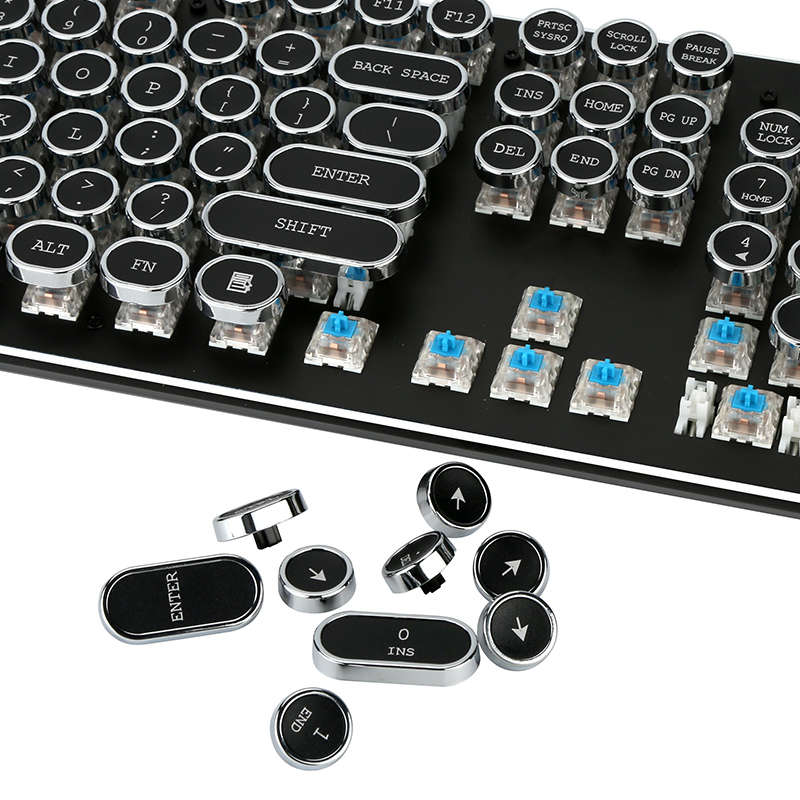 Blue Mechanical Key Switches
Built to outlast even the most intense marathon gaming sessions, this Dotech Typewriter gaming keyboard is equipped with Kaihua Blue Mechanical key switches (very similar to MX Cherry) that allow for lightning-fast precision when the stakes are high. Our mechanical keyboards have keys that deliver a distinctive tactile feedback to your fingertips in the form of pronounced taps. Just like a typewriter where each key pressed seems to bounce back up at you... Well that's exactly what a mechanical keyboard feels like too.
"One of the most satisfying keyboards we've ever typed on. If you love that vintage typewriter look, we know you'll love this!"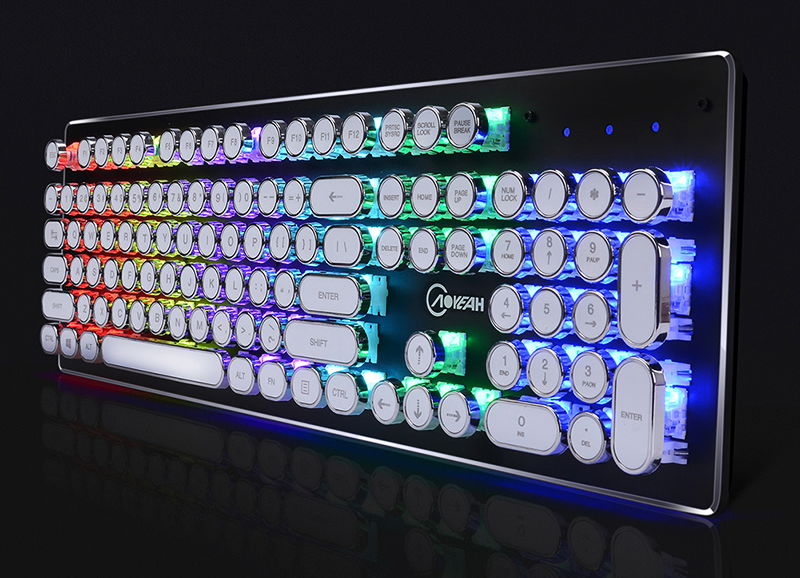 Our Typewriter Mechanical gaming switches have a 70-million-click lifetime ensuring they stay quick & responsive.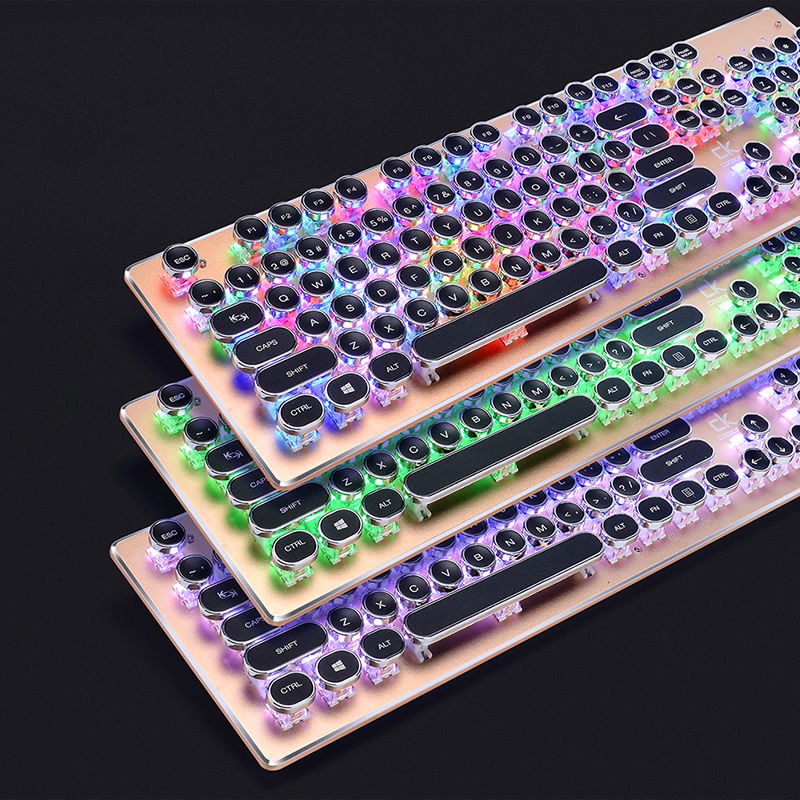 Aluminum Metal Construction
The Dotech Typewriter Mechanical Gaming Keyboard is housed entirely in an aluminum-metal alloy for that luxurious blend of the past and future.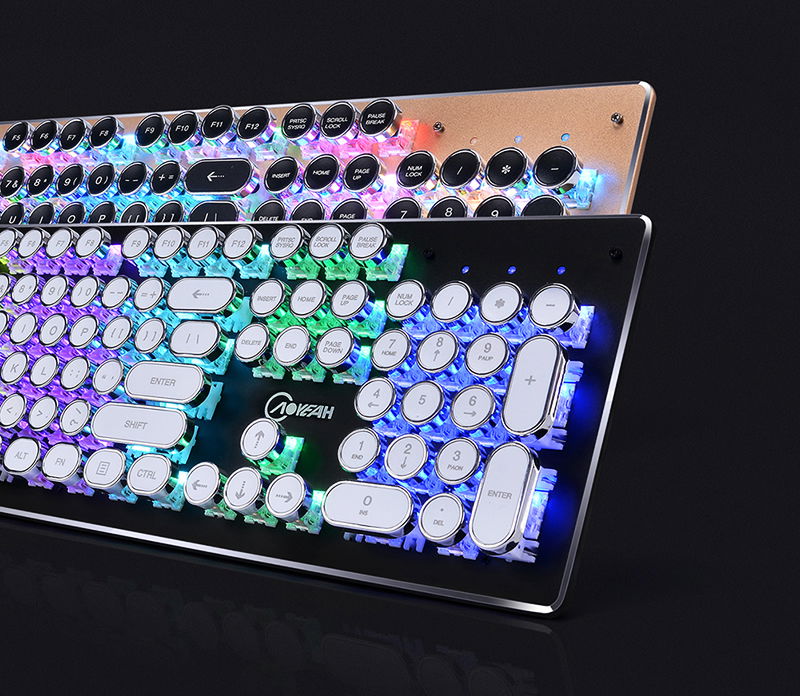 Dust resistance - Unique Key socket design prevents dust and liquid from entering the key switches. #KeepItClean


Productivity Booster


Shortcut & hotkeys - easy access to productivity, internet and multimedia functions.


See it in action:
Please note: Video displays standard keycaps for the W,A,S,D keys (this is our staffs own custom design specifically for his FPS Games). However, the keyboard definitely comes with a full set of Typewriter Mechanical Keycaps.
Available Colors
See image below. From left to right: Black (left). Gold/Black (middle). Black/White (right).

Frequently Asked Questions
What is the difference between the RGB &
Original Typewriter
version?

The main difference is the RGB Backlight technology. The Original Typewriter keyboard has fixed Led lights on each row of the keyboard. This means that the whole keyboard cannot be changed to match one color you prefer. However, the RGB version has advanced RGB backlight technology input into each key switch so that ALL the keys can change to any color you desire!
What if I don't want the RGB Lights on?

Not a fan of the RGB backlights? Then no worries! You can simply switch them off, or adjust the brightness if you wish.
Can I still get this keyboard if I'm not a gamer?

Of course! We actually have a lot of customers who do not game at all, they simply want the keyboard for it's 'hipster' looks and use it as a normal everyday keyboard. If you're a writer, than you'll definitely love this keyboard! It is so satisfying to type on!
The keys look like they will break?
No way! These are extremely durable and will last for years & years of gaming. They've been factory tested to work perfectly fine after 70mill + clicks.
Looks like it will be hard to clean?

The great thing about mechanical keyboards is that the key-caps can easily be pulled off. Therefore allowing you to clean any food crumbs etc. that get stuck within the keys. Not only that, but it's also dust resistance. Unique Key socket design prevents dust and liquid from entering the key switches.
P.S You also receive a full keyboard cleaning kit in your order which includes a cleaning cloth & key-cap puller. Is this keyboard wired or bluetooth?
Our Keyboard is USB wired.
How-long is shipping and is it free?

Shipping is FREE WORLDWIDE! Shipping to the USA, Australia, NZ, Canada, normally takes between 10-22 days. All free shipping is tracked & traced and you will receive a tracking number.
The Dotech Gaming Typewriter Mechanical Gaming keyboard
User manual.
Keyboard puller tool (for taking out the keycaps).
Keyboard cleaning cloth.
Compatible system requirements:
PC With USB ports. They keyboard is USB wired & not bluetooth.
Mac, Windows 10, Windows 8, Windows 7, or Windows Vista
Works on desktop or laptops.

SHIPPING INFO: Shipping is FREE WORLDWIDE! Shipping to the USA, Australia, NZ, Canada, normally takes between 10-22 days. All free shipping is tracked & traced and you will receive a tracking number. Please head over to our FAQ page for more info. Click here
Why trust us?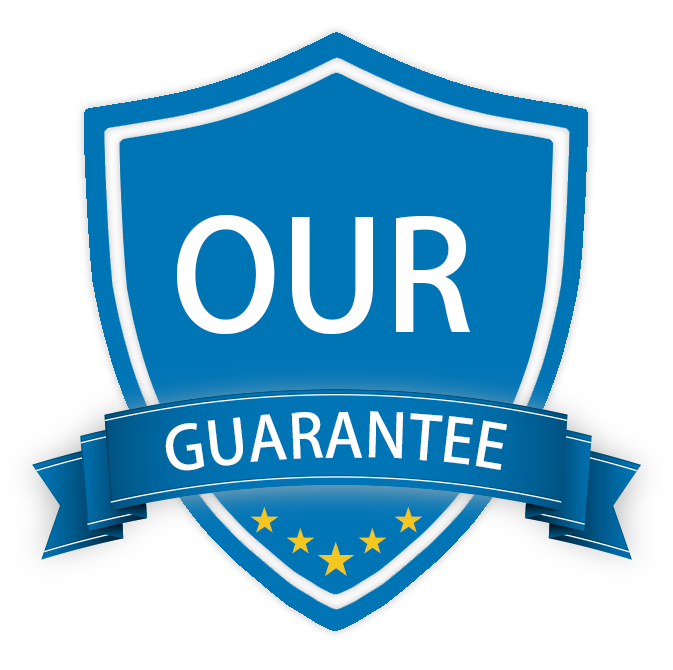 We truly believe we make/source some of the most innovative gaming products in the world, and we want to make sure we back that up with a risk-free guarantee.

If you don't have a positive experience for any reason, we will do whatever it takes to make sure you are 100% satisfied with your purchase.

We have 24/7 email support. Please contact us if you need assistance.

1000's of Happy Customers
Since launching in early 2017, we've had thousands of happy customers.

We use encrypted SSL security to ensure that your credit card information is 100% protected

We offer free tracked shipping services worldwide.